The Concept of Wasatiyyah in Consumption: An Analysis from Islamic Financial Jurisprudence
Keywords:
Wasatiyyah, Consumption, Islamic Jurisprudence, Moderation, Muslim
Abstract
In Islam, consumption is not just the act of fulfilling human wants, but also an action that contributes to the well-being of ourselves and others. The goal of consumption in an Islamic framework is to satisfy personal needs that bring the pleasure of Allah and contribute to social development. Therefore, this study has been designed to discuss the concept of consumption in Islam by reviewing several journal articles in the field of Islamic jurisprudence. The study explores the act of consumption based on the moral and religious principles of Islamic shariah. In Islam, Muslims are guided to consume based on permissibility, wholesomeness, cleanliness, priority, and maqasid al-shari'ah (higher objectives of Islamic law). Most significantly, the study focuses on the principle of moderation (wasatiyyah) as it relates to consumption, as wastefulness and miserliness have an impact not only on individuals but also society and the economy. The study expects to improve Muslim consumer behaviour by acting as a reminder of the moral principles underlying consumption. 
Downloads
Download data is not yet available.
References
Abdullah Mat Zin, 'Wasatiyyah Dalam Hubungan Kaum", Dewan Tamadun Islam, Vol. 11 (2013), p. 4-8.
Abu 'Abd Allah Muhammad bin Ahmad al-Ansariy, Al-Jami' li Ahkam al-Qur'an, Vol. 1. (Beirut, Lebanon: Dar al-Kutub al-'Ilmiyyah, 1993).
Abul al-Hasan Ali al Mawardi, Tafsir al-Mawardi, vol-3, (Beirut: Dar al-Kutub al-'Ilmiyyah), 118.
Ahmed ibn Mustafa Al–Maraghi, Tafsir al-Maraghi, 2, (Shirkah Maktabah Wa Matba'ah Mustafa al-Bab al-Halabi, Egypt 1946), 146.
Ali Mohammad Al-Sallabi, Al-Wasatiyyah fi al-Quran al-Karim. (1999) Amman: Jordan, Dar al-Nafais & Dar al-Bayariq.
Al-Shawkani, Muhammad ibn Ali ibn Muhammad ibn 'Abdullah (1414 H), Fath al-Qadir, Beyrut: Dar Ibn Kathir.
Al-Tabariy, Abi Ja'far Muhammad bin Jarir, Tafsir al-Tabariy al-Musamma Jami' al-Bayan fi Ta'wil al-Qur'an, Vol. 2. (Beirut, Lubnan: Dar al-Kutub al-'Ilmiyyah,1993).
Atique, Tahir, Atiq uz Zafar Khan, and Ataullah Khan Mahmood,'Right to Basic Necessities of Life in Islam: Meaning and Concept' The dialogue, 11 (2), (2011), 202-212.
Basharat Hossain, Application of Islamic Consumer Theory : An Empirical Analysis in the context of Bangladesh, Global Review of Islamic Economics and Business, 2 (1), (2014), 69-83.
Biplob Hossain, Faruk Abdullah, The importance of Islamic financial literacy, Islam and Civilization Renewal, (2019), 106-117.
Donald Rutherford, Economics: The Key concepts, (London and New York London: Routledge, 2007), 215-217.
Dr Muhammad Sharif Chaudhry, 'Fundamentals of Economic Systems,' (Township, Lahore, Pakistan, 2003).
Fakhr al-Din, Al Raziy, Al-Tafsir al-Kabir aw Mafatih al-Ghayb, Vol. 2. (Beirut, Lubnan: Dar al-Kutub al-'Ilmiyyah, 1990).
Farzana Quoquab, Nor Liza Abdullah and Maisarah Ahmed, Epicureanism and Global Consumerism in Shaping Muslim Buyers' Consumption Pattern: An Islamic Perspective, International Journal of Innovation and Business Strategy, 3, (2015), 1-12.
Fatimah Abdullah, and Amirah Adnana, 'Hamka's Concept of Moderation: An Analysis,' Journal of Islam in Asia, 2(2011): 358-375.
Ghazali Basri, 'Dinamika Tasawwur Islam Dalam Pembentukan Keperibadian Umat, translated by Mohd Mokhtar Syafii. Bandar Seri Begawan: Kolej Universiti Perguruan Ugama Seri Begawan, (2008).
Hafas Furqani, Consumption and Morality: Principles of Behavioral Framework in Islamic economics. JKAU: Islamic Econ., Vol. 30: (2017), 89-102.
Hussein, A, Amrey, Islamic water management, Water International, 26 (4), 2001, 481-489.
Ibn Sina, Kitab al –Siyashah, ed. Louis Ma'luf, in Louis Cheikho et. al, Maqālat Falsafiyyah Qadīmah li Ba"di Masyāhīrih Fālāsifah al-"arab Muslimin wa Nasara (Beirut: al-Matba" al-Kātsūlīkiyyah lil Abāi al-yasū"iyyin, 1911), 9-10.
Ibrahim Ibn Musa Al-Shatibi, Al-Muwafaqat Fi Usul al-Sharīʿah (ed. Abu 'Ubaydah Mashhur Ibn)
Ibrahim Ramjuan, 'Islam and Luxury Consumption,' Research gate (2018): 1-16.
Kim Shyan Fam, David S. Waller, B Zafer Erdogan, The influence of religion towards the advertisng of Controversial Products, European Journal of Marketing Vol. 38 No. 5/6, 2004 pp. 537-555.
M. Umer Chapra, Ethics and Economics : An Islamic perspective, Islamic Economics Studies, 16 (1&2), (2008), 1-24.
Masudul Alam Chowdhury, The Micro-economic Foundations of Islamic Economics: A study in Social Economics American Journal of Islamic Social Science, 3(2), (2019), 231-245.
Mohammad Rashid Rida, Tafsir al-Manar. Egypt: Al-Hayyah al-Misriyyah al-Ammah li al-Kitab), vol. 2. 1990.
Mohd Shukri Hanapi, 'The Wasatiyyah concept in Islamic Epistemology: A case study of its Implementation In Malaysia, International Journal of Humanities and Social Science, 4, 9(1), (2014), 51-62.
Muhamamd Naim mOmar , Mahamad Arifin , Mohamamd Deen Mohammad Napiah, Mohamamd Asmadi Abdullah. When Halalh and haram Meet rthe haram Prevails? : An Analysis of the Maxim and its Legal Application in Contemporaray Issues. Australian Journal of Basic and Applied Sciences, 6 (11), (2012), 205-212.
Muhammad Ibn Ali Ibn Muhammad al Shawkani, Tafsir Fath al-Qadir, 3 (Beirut: DarIbn Kathir.1414 H), 263.
Nurizal islam, Syafii Muhammad Antonio, The Islamic Wetah Management : An Analysis from IBN Sina's Perspective, Journal of Islamic Thought and Civilization, 2 (3), (2012), 19-36.
Orose Leelakulthanit, Factors Affecting life in Moderation. Asian Social Science; 13, (1), (2017), 106-113.
Pasrun Adam, An analysis of the effect of consumption spending and investment on Indonesia's economic growth, Iran Economic Review vol. 22, (3), 2018, 1-15.
Pillai, Rajasekharan and Carlo, Rozita and D'souza, Rachel, Financial prudence among youths, Munich personal Repec Archive,(2010), 1-22.
Roslily Ramlee, Sharifah Raihan Sayed Mohd Zain, and Wan Rohaida Wan Hussain, 'Are Muslims Practicing Moderation in their Financial Decisions,' Asian Academy of Management Journal, 24, no. 1(2019):157–170.
Soo Liim, Eating a Balanced Diet: A Healthy Life through a Balanced Diet in the Age of Longevity, Journel of Obesity and Metabolic Syndrome, (2018), 39-45.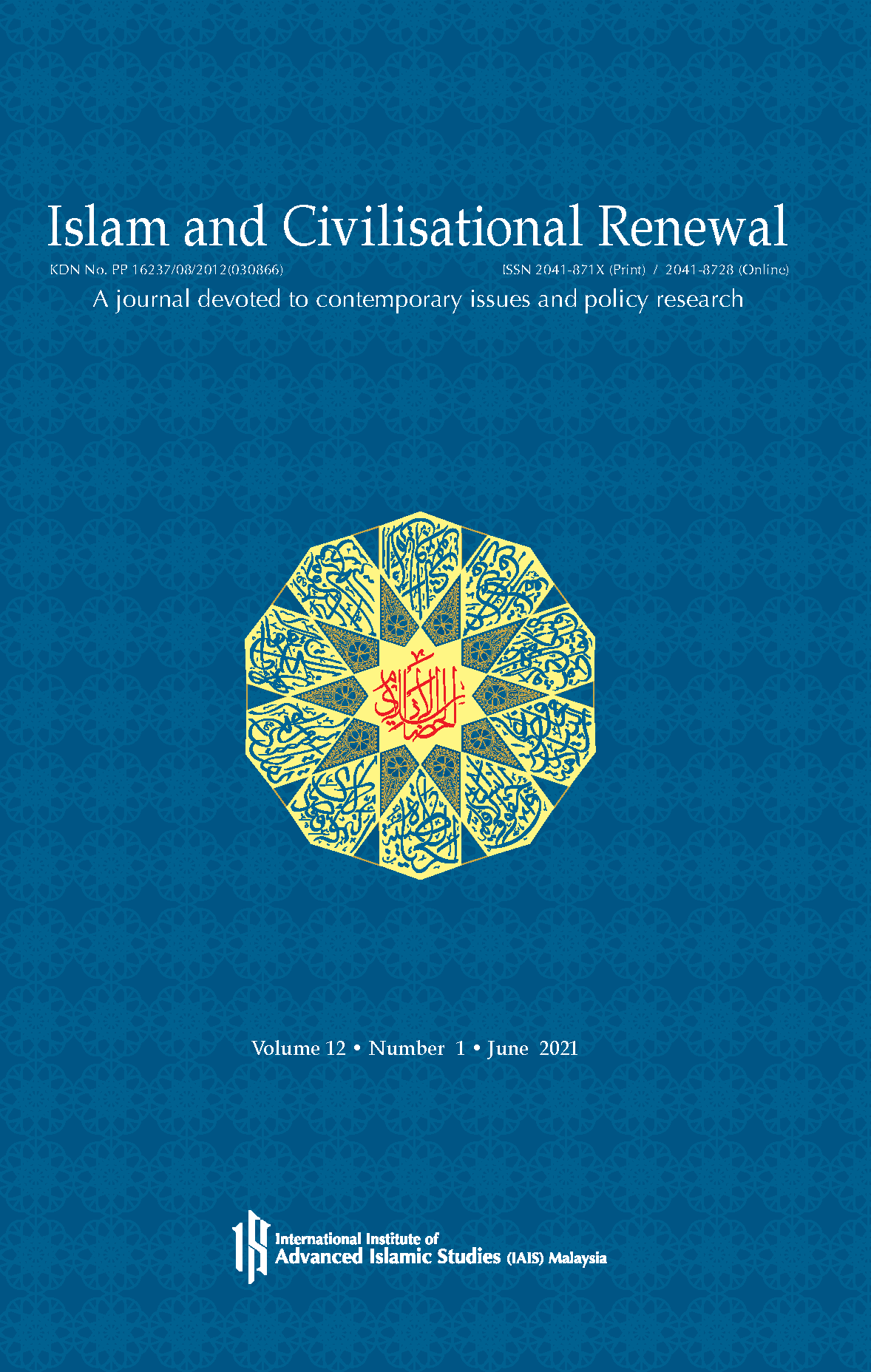 Downloads
How to Cite
Biplob, Hossain, and Md Faruk Abdullah. 2021. "The Concept of Wasatiyyah in Consumption: An Analysis from Islamic Financial Jurisprudence". ICR Journal 12 (1):11-26. https://doi.org/10.52282/icr.v12i1.810.