The Role of Zakat in Overcoming Inflation and Unemployment: Revisiting the Trade-Off Theory
Keywords:
Zakat, Inflation, Unemployment, Trade off, A.W Philips, Fiscal Policy
Abstract
The present study aims to examine the role of zakat in addressing unemployment and inflation, while also revisiting A.W. Phillips' trade-off theory. The study adopts a qualitative methodology, using library research to critically analyse how zakat could address unemployment and inflation. The study argues that the optimal application of zakat could overcome the issue of unemployment while maintaining price stability. This is true since zakat can be distributed in two forms: consumptive and productive. Therefore, an increase in aggregate demand will always be followed by a rise in aggregate supply; the distribution of zakat in the consumptive form will increase aggregate demand, while the distribution of zakat for a productive purpose will increase aggregate supply. An increase in aggregate demand would in turn increase production, thus absorbing more labour as a result. This is where zakat addresses unemployment. On the other hand, a rise in aggregate demand will initially inflate the aggregate price. However, since the increase in aggregate demand is simultaneously followed by an increase in aggregate supply due to the distribution of zakat in its productive form, the price remains stable. Aggregate demand and aggregate supply cross at an equilibrium point. More importantly, the price is stable while the quantity of production is at its highest level. The findings of the study serve as a reference point for regulators formulating fiscal policy embedded in the zakat system.  
Downloads
Download data is not yet available.
References
Abd Wahab, N. and Abdul Rahman, A. R. 'A Framework to Analyse the Efficiency and Governance of Zakat Institutions.' Journal of Islamic Accounting and Business Research 2, no.1 (2011): 43-62.
Abdullah, N., Mat Derus, A. and al-Malkawi, H. 'The Effectiveness of Zakat in Alleviating Poverty and Inequalities: A Measurement Using a Newly Developed Technique.' Humanomics 31, no. 3 (2015): 314-29.
Abu Ubaid. Kitab al Amwal. Beirut: Dar al Fikr, 1988.
Al-Maqrizi. Ighathah al-Ummah Bi Kashf al-Ghummah. Riyadh: Maktabah al-Usrah, 1999.
Ali, I. and Hatta, Z. A. 'Zakat as a Poverty Reduction Mechanism among the Muslim Community: Case Study of Bangladesh, Malaysia, and Indonesia.' Asian Social Work and Policy Review 8, no. 1 (2014): 59-70.
Al-Qaradhawi. Spektrum Zakat. Translated by Sari Narulita. Jakarta: Zikrul Hakim, 2005.
Ascarya. 'The Determinants of Inflation under Dual Monetary System in Indonesia.' Working Paper Bank Indonesia, 2009.
Azam, M., Iqbal, N., and Tayyab, M. 'Zakat and Economic Development: Micro and Macro Level Evidence from Pakistan.' Bulletin of Business and Economics 3, no. 2 (2014): 85-95.
Dwivedi, D.N. Macroeconomics Theory and Policy, 3rd Edition. New Delhi: Tata McGraw Hill Education, 2010.
Embong, M. R., Taha R. and Mohd Nor, M. N. 'Role of Zakat to Eradicate Poverty in Malaysia.' Jurnal Pengurusan (UKM Journal of Management) 39 (2013): 141-50.
Hashem, E. A. and El-sha'er, S. 'Can Zakah Help to Enhance Financial Inclusion? Case Study Egypt.' International Journal of Education and Research 3, no.3 (2015): 413-32.
Hassan, M. K. and Ashraf A. 'An Integrated Poverty Alleviation Model Combining Zakat, Awqaf and Micro-Finance.' In Seventh International Conference–The Tawhidic Epistemology: Zakat and Waqf Economy, Bangi, Malaysia (2010): 261-81.
Hassan, M. K. and Khan, J. M. 'Zakat, External Debt and Poverty Reduction Strategy in Bangladesh.' Journal of Economic Cooperation Among Islamic Countries 28, no. 4 (2007): 1-38.
Husain, H., Hamzah, N., Asse, A. and Kara, M. 'Yusuf Al-Qaradawi Concept on Professional Zakat.' International Journal of Multicultural and Multireligious Understanding 6, no. 6 (2019): 1-9.
Karim, A. Ekonomi Islam: Suatu Kajian Ekonomi Makro. Jakarta: The International Institute of Islamic Thought (IIIT), 2002.
———. Sejarah Pemikiran Ekonomi Islam. Jakarta: Rajawali Pers., 2004.
Kates, S. '"Supply Creates its Own Demand": A Discussion of the Origins of the Phrase and of its Adequacy as an Interpretation of Say's Law of Markets.' History of Economics Review 41, no.1 (2005): 49-60.
Khasandy, E. A. and Badrudin, R. 'The Influence of Zakat on Economic Growth and Welfare Society in Indonesia.' Integrated Journal of Business and Economics 3, no. 1 (2019): 65-79.
Lipsey, Richard G. and Harbury, C. First Principles of Economics. New York: Oxford University Press, 2004.
Machlup, F. 'Another View of Cost-Push and Demand-Pull Inflation.' The Review of Economics and Statistics 42, no. 2 (1960): 125-39.
Mahat. N. I. and Warokka, A. 'Investigation on Zakat as an Indicator for Moslem Countries' Economic Growth.' Journal for Global Business Advancement 6, no. 1 (2013): 50-8.
Mahmud, A. H. Ekonomi Zakat: Sebuah Kajian Moneter dan Keuangan Syariah. Jakarta: Raja Grafindo Persada, 2006.
Malik, B. A. 'Philanthropy in Practice: Role of Zakat in the Realization of Justice and Economic Growth.' International Journal of Zakat 1, no. 1 (2016); 64-77.
Metwally, M. M. 'A Behavioural Model of an Islamic Firm.' In Readings in Macroeconomics: An Islamic Perspective, edited by Sayyid Tahir and Aidit Ghazali. Longman Malaysia: Kuala Lumpur, 1992.
Metwally, M. M. 'Fiscal Policy in an Islamic Economy.' In Fiscal Policy and Resource Allocation in Islam, edited by Ziauddin Ahmed, Munawar Iqbal, and M. Fahim Khan, 59-81. Islamabad: Institute of Policy Studies, 1983.
Nadzri, F. A. A., Abd Rahman, R. and Omar, N. 'Zakat and Poverty Alleviation: Roles of Zakat Institutions in Malaysia.' International Journal of Arts and Commerce 1, no.7 (2012): 61-72.
Noor, Z. and Pickup, F. The Role of Zakat in Supporting the Sustainable Development Goals. Jakarta: Baznas-UNDP, 2017.
Nurzaman, M. S. Zakat and Human Development: An Empirical Analysis on Poverty Alleviation in Jakarta, Indonesia. Doha: Center for Islamic Economics and Finance, Qatar Faculty of Islamic Studies, Qatar Foundation, 2010.
Obaidullah and Shirazi. Islamic Social Finance Report 1436H/2015. Jeddah: IRTI IDB, 2015.
Phillips, A. W. 'The Relation Between Unemployment and The Rate of Change of Money Wage Rates in The United Kingdom, 1861-1957.' Economica 25, no. 100 (1958): 283-99.
Raimi, L., Patel, A. and Adelopo, I. 'Corporate Social Responsibility, Waqf System and Zakat System as Faith-Based Model for Poverty Reduction.' World Journal of Entrepreneurship, Management and Sustainable Development 10, no. 3 (2014): 228-42.
Ramesh, M. 'Economic Crisis and Its Social Impacts.' Global Social Policy 9, no.1 (2009): 79-99.
Samuelson, P. A. and Nordhaus, W. D. Ekonomi. Jakarta: Erlangga, 1986.
Sarea, A. 'Zakat as a Benchmark to Evaluate Economic Growth: An Alternative Approach.' International Journal of Business and Social Science 3, no. 18 (2012): 242-5.
Schwarzer, J. A. 'Samuelson and Solow on the Phillips curve and the "Menu of Choice": A Retrospective.' Œconomia: History, Methodology, Philosophy 3, no. 3 (2013): 359-88.
Shaikh, S. A. and Ismail, A. G. 'Role of Zakat in Sustainable Development Goals.' International Journal of Zakat 2, no. 2 (2017): 1-9.
Shirazi, N. S. 'Integrating Zakat and Waqf into the Poverty Reduction Strategy of The IDB Member Countries.' Islamic Economic Studies 130, no. 1155 (2014): 1-30.
Sukirno. Makroekonomi Modern. Jakarta: Raja Grafindo Persada, 2000.
World Bank and Islamic Development Bank Group. Global Report on Islamic Finance: Islamic Finance: A Catalyst for Shared Prosperity. Washington, DC: World Bank, 2016.
Yusoff, M. B. 'Zakat Distribution and Growth in The Federal Territory of Malaysia.' Journal of Economics and Behavioral Studies 4, no. 8 (2012): 449-56.
———. 'Zakat Expenditure, School Enrollment, and Economic Growth in Malaysia.' International Journal of Business and Social Science 2, no. 36 (2011): 175-81.
Zulfiqar, M. Zakat According to the Quran & Sunnah. Riyadh: Maktaba Dar al-Salam, 2011.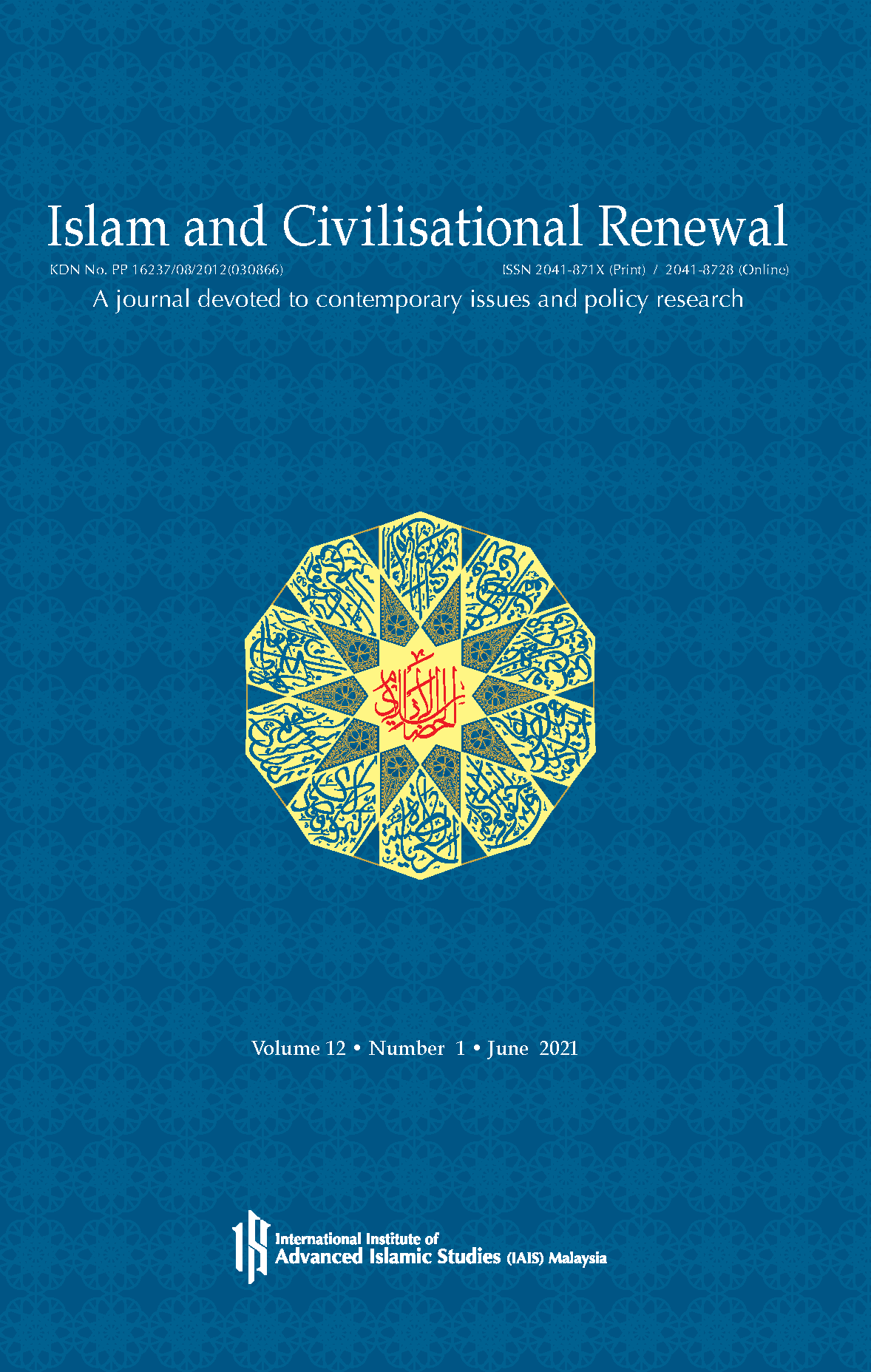 Downloads
How to Cite
Antonio, Mohammad Syafii, Mohammad Mahbubi Ali, and Jebel Firdaus. 2021. "The Role of Zakat in Overcoming Inflation and Unemployment: Revisiting the Trade-Off Theory". ICR Journal 12 (1):73-97. https://doi.org/10.52282/icr.v12i1.822.